Shorter days. Crisper nights. It's finally fall and there's no better time to cozy up with a glass of this season's best flavors. Fill your cup with some small-town charm at Southern Indiana's breweries, wineries, and distilleries.  
Breweries 
St. Benedict's Brew Works is a hidden gem located on the beautiful grounds of the Sisters of St. Benedict Monastery. Sit down and feel right at home with the friendly staff and the brewery's wide range of rotating taps, from IPAs to dark stouts. Along with delicious craft beers, this brewery serves up some amazing comfort food. You can't go wrong with their chicken bacon ranch pizza, pretzel bites, and beer cheese. Carve out some time for this visit, because you'll want to stay for a couple pints!
Yard Goat Artisan Ales is located in Huntingburg's historic 4th Street's business district, making it the perfect destination for happy hour drinks and early holiday shopping. The family-friendly atmosphere is worth the trip itself! Inside, you'll find a craft beer aficionado's dream come true, with sours, porters, stouts, pale ale, pilsners, and IPAs. These ales pair perfectly with their savory pizzas and tasty apps. It's the ultimate place to catch up with a few friends over a flight of brews. 
Southern Indiana is also now home to another unique local brewery. Patoka Lake Brewing is located at the main entrance of the Patoka Lake recreation area and is truly a destination experience. The stand-alone brewery offers a range of pours, from a refreshing malty ale to a rich coffee chocolate stout. The tasting room is the perfect place to kick back, relax, and find your new favorite craft beer.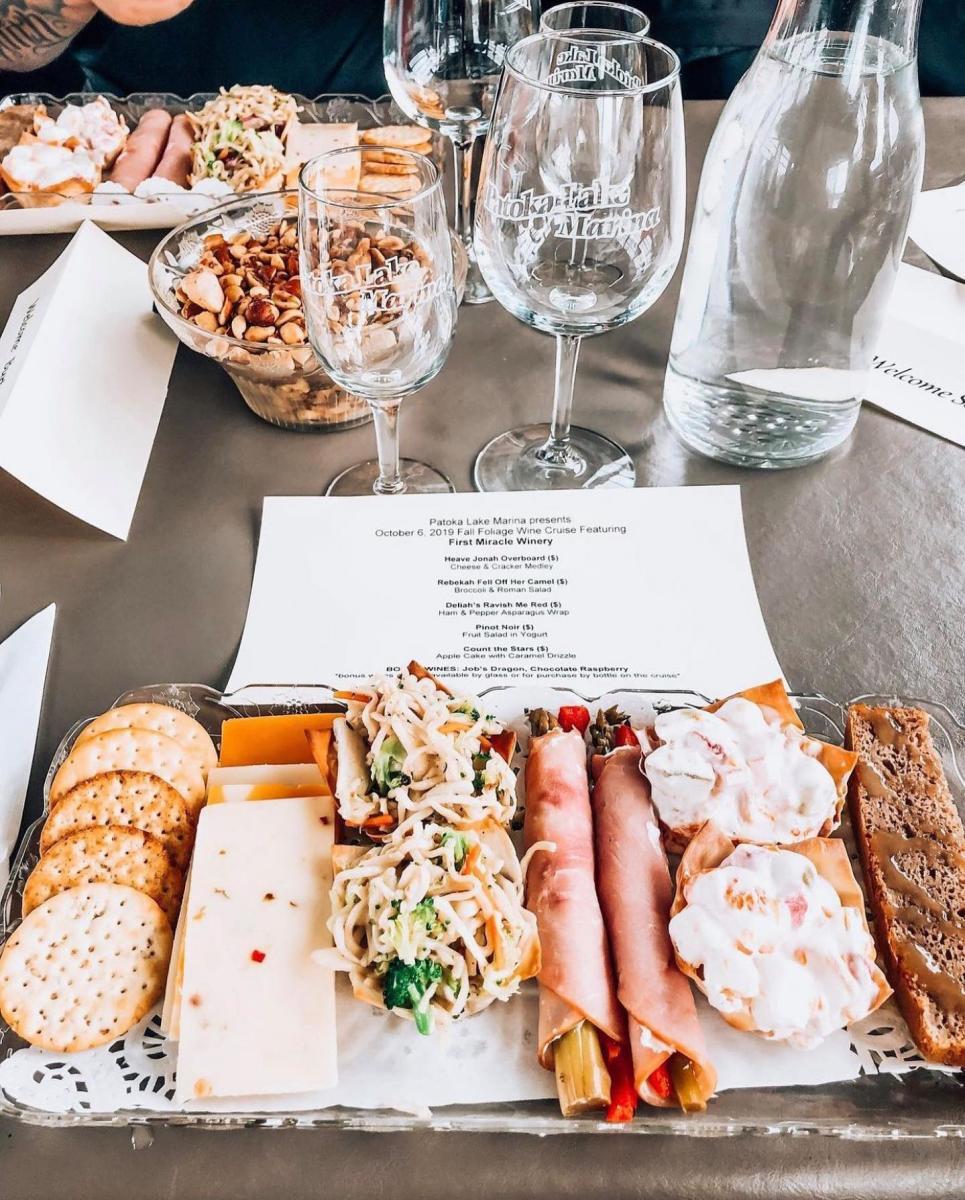 Wineries 
Sparkling wines and a stellar staff- who could ask for more? Family-owned French Lick Winery is a must-stop when visiting French Lick/West Baden. Sample from a terrific selection of 30+ wines, ranging from dry to sweet, sparkling, and fortified. 
Hunters Ridge Winery is just a short drive off I-65 in Salem, IN, and is the perfect place to unwind. Soak in the beautiful view of fall colors on their cozy back porch. Enjoy tasting from over a dozen wines including a broad range of red, white, and fruit wines packaged in uniquely designed bottles.  
Great for the day, or a getaway, Patoka Lake Winery is known for its diverse selection of traditional grape wines and fruit wines. More than just a tasting room, visitors can sip and stay in luxury wine suites above the tasting room or choose a beautifully converted silo suite. Buy a bottle or a tasting and savor the fall breeze and scenery from the welcoming covered deck.  
Only a few miles from Spring Mill State Park, Carousel Winery is fondly referred to as "Southern Indiana's best-kept secret." Owners Sue and Marion Wilson have been producing hand-crafted, premium wines for over 20 years. Enjoy the scenic drive through rolling hills and soak in some Hoosier hospitality as they guide you through a tasting at the beautifully carved limestone wine bar.  
Distillery 
Spirits of French Lick, an extension of French Lick Winery, is located on the same property in West Baden. This artisan distillery is home to Indiana's first commercial Absinthe and focuses on bourbon, brandy, botanical spirits, and American whiskey. Equipped with their own grain mill on site, this distillery follows one rule - "respect the grain." Stop by for a tasting or schedule a tour this fall. 
Cheers!